Creating happy, active children and connecting families
We have over 250 sporting challenges for your child
What is Sport Diddy?
Sport Diddy is about having fun, getting active, building your child's confidence and spending quality time as a family. By following our series of challenges performed by my son "Diddy" and my daughter "Diddy Roo" we will show you how to teach your child to be amazing at sport.
The Pre-School Challenges are ready for children as soon as they are walking through to 5 years of age.  We will show you how to take your child from their first steps through to incredible sporting skills. There are 200 challenges for you to try in your own home with simple equipment!
The Primary School Challenges are for teachers and aimed at children aged 5-11 to do at home. The challenges are great fun for reception children new to physical activity as well as challenging your most gifted and talented pupils in year 6. We have 56 challenges for you to give to your pupils as PE homework!
The Sport Diddy Handbook (FREE): My son and daughter became proficient in 8 different sports by the age of 3. In our Sport Diddy handbook I will explain how to teach your child to be amazing at sport.
How Sport Diddy started?
When my youngest son "Diddy" began to walk we would spend hours playing together in the small room at the back of our house. Diddy loved our special time together and I was amazed at how he would succeed with the increasingly difficult challenges that I thought up.
After encouragement from friends I filmed us playing together to capture some of these special moments for our memories. We were both having incredible fun and Diddy was learning and benefitting from the experience in so many ways.
A few years later I was blessed with a daughter "Diddy Roo" and, after all the wonderful times I spent with Diddy, it wasn't long before we were playing and making up new challenges in our magical little room. Diddy Roo and I went on another sporting adventure.
All my kids have become happy, healthy children and Sport Diddy brought us together as a family. I never put a limit on what I thought my children could achieve and as a result they achieved things that seemed impossible.
Now I'd like to share the secrets of Sport Diddy and help you have hours of fun unlocking your child's sporting potential.
For further enquiries email: sportdiddy@gmail.com
See you soon!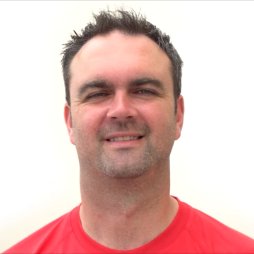 About Stuart Owen
Stuart Owen is a PE teacher and football coach with over 20 years experience working with children of all ages.
From his small gym in Harrogate he has developed 8 junior internationals and has seen 85 children sign for professional football academies as well as coaching children that have become world class athletes in other fields. 
Most importantly, he is a proud dad of 3 wonderful happy children :)