Introduction
How to teach your child to be amazing at sport!
Chapter 1: Introduction
With the Sport Diddy programme my son and daughter became proficient in 8 different sports by the age of 3. In this handbook You will learn how to do the same with your child all whilst bonding as a family, and having hours of fun!
Diddy and Diddy Roo live with their mum, dad and older brother. On this site you can watch their dad (this humble author) take them on a sporting adventure that has led to incredible skill acquisition and hundreds of hours of fun.
Sport Diddy has brought our family closer together and helped Diddy and Diddy Roo grow into happy and confident children.
Now we hope Sport Diddy can do the same for you and your family.
By combining charming home videos and world-class coaching techniques, Sport Diddy can teach you everything you need to give your child a great start in sport and life!
What are Sport Diddy Challenges?
Would  you like to teach your child to perform a badminton serve, score an amazing basketball shot, perform an overhead kick in football, play a golf chip, kick a rugby conversion, hit a tennis forehand, master a cricket pull shot and execute a volleyball dig! How about all 8 by the age of 3?
With this easy to follow guide, and the accompanying video courses, your child can learn the foundation skills for each sport.
Once the basics have been mastered your child can go on to perform incredible challenges like volleying a football into a basketball net or hitting a badminton serve into a small cup. Anything is possible!
To learn exactly how this is done, follow Diddy and Diddy Roo as they take on the 'Sport Diddy Challenges', ranging from beginner to almost impossible. Then, with the theory in-hand, have a go yourself.
The 8 sports we chose were Badminton, Basketball, Cricket, Football (Soccer), Golf, Rugby, Tennis and Volleyball. However, these were just our preferences. The principles underpinning Sport Diddy (and contained in this guide) work for every sport.
There are 4 levels for each sport.
Level 1 can start as soon as your child is able to walk and gives you the foundations to progress to the more complex skills required for Levels 2, 3 and 4.
The challenges in Level 4 are extremely difficult even for adults to perform, but (as you'll see in this guide's video examples) they can be achieved by even very young children when you follow the right process.
Most of all, Sport Diddy is about having fun, bonding and spending quality time with your little ones!
Background: How Sport Diddy Began
When my second son (Diddy) began to walk we would spend hours playing together in the small room at the back of our house.
As a former PE teacher, and sports coach, it wasn't long before Diddy and I were playing lots of different sports and having great fun at the same time.
Diddy loved our special time together and I was amazed at how he would succeed with some difficult challenges that I thought up. I decided to film us playing together and capture some of these special moments for us to remember in the future.
As I watched the clips back I realised that there was something more here than I first thought. We were both having fun and Diddy was learning fast. We were benefitting from the experience in so many ways.
After encouragement from friends I decided to make some of the video clips public. The videos gained a lot of views in a short time and it was obvious that Sport Diddy could have a positive impact on parents and children around the world!
A few years later I was blessed with a daughter (Diddy Roo) and, after all the wonderful times I spent with Diddy, it wasn't long before Diddy Roo and I were playing and making up new challenges in our magical little room.
I tried not to copy what I had done with Diddy. Instead we followed our own journey and Diddy Roo and I went on another sporting adventure.
I never put a limit on what I thought my children could achieve and as a result they achieved things that seemed impossible: by 3 years old they mastered skills that aren't normally introduced until secondary school!
Who is Sport Diddy For?
Sport Diddy is for everyone, but particularly for families with young children. Mums, dads, brothers, sisters, grandmas, grandads, family and friends - this is for you. The challenges are aimed at young children but they are fun for all ages and cater for all levels of ability.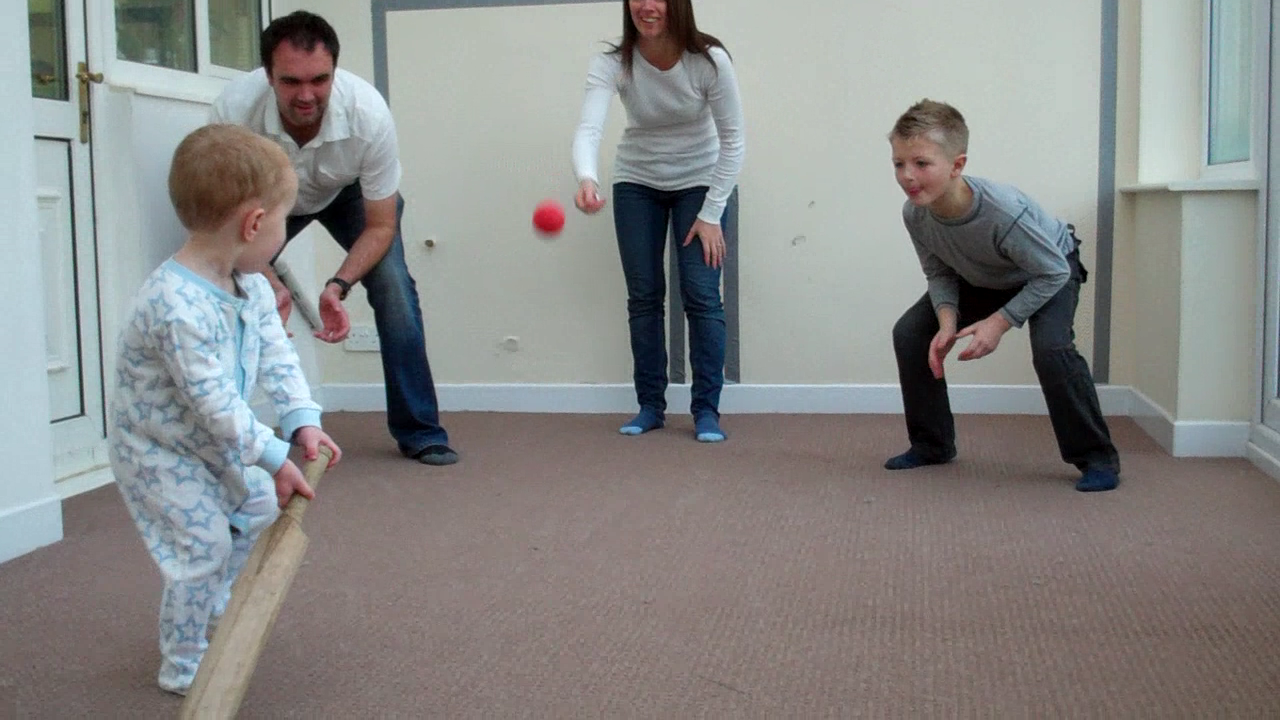 Our family had hours of fun with Sport Diddy and have come away from it with wonderful memories.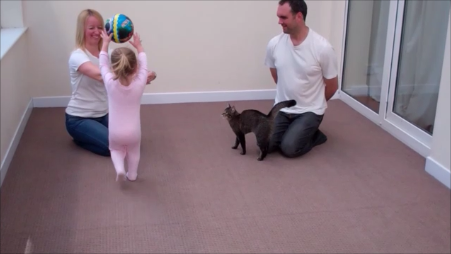 The cat even enjoyed it too, and often liked to see what was going on!
You don't need a sporting background to do Sport Diddy. All you need is imagination and enthusiasm. Every child with the right environment and support can do extraordinary things!