Benefits of Sport Diddy
10 great reasons to try Sport Diddy today!
Chapter 2: Benefits of Sport Diddy?
From physical development, to accelerated learning, to practical life skills... here are 10 great reasons for you to try the Sport Diddy Challenges with your child.
What are the Benefits of Sport Diddy?
1.   Having lots of fun
2.   Developing happy and healthy children
3.   Bonding with your child and connecting as a family
4.   Creating fantastic memories
5.   Being physically active
6.   Creating good early habits for your child
7.   Education and learning through play
8.   Giving your child confidence and self-belief
9.   Having a great start in sport and life
10. Developing incredible multi-sport skills
Well-Rounded
Children progress in different areas at different times. For example, one child might understand new instructions quickly but need more time to develop the skills to complete a challenge. Another might possess great skills but need more time to develop physically before they can reach a far-off target.
Sport Diddy Challenges have been designed to develop skills holistically - which means the games we played together had Physical, Technical, Mental, and Social elements. This leads to a very well-rounded education and will help develop well-rounded children!
Education and Learning
Throughout the challenges there are many opportunities to give your child a great start with their education and learning.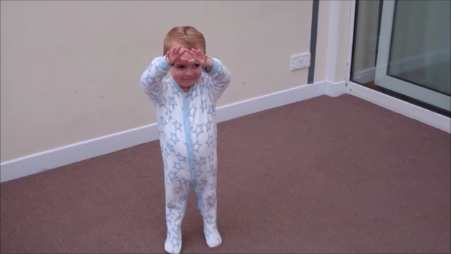 In volleyball, we learned to make the shape of a triangle to help us perform the set shot. We often counted the tennis and golf balls before we started hitting them, this helped Diddy learn numbers and can help teach your child to count.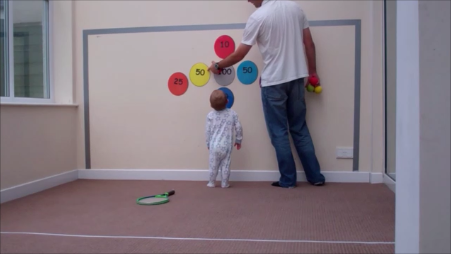 Bright colours are brilliant for Sport Diddy and I taught both my children their colours during our challenges.
There are opportunities to look at colours, shapes, or even more difficult topics such as angles.  
In one challenge we kicked the football off the wall, so Diddy worked out the angle he needed to hit the ball to score a goal. In another challenge, Diddy Roo worked out the angle she needed to use to knock down a tower.
Life Skills
Sport gives you many happy moments and many challenges. It has a unique ability to recreate situations that you deal with throughout your life. In every Sport Diddy challenge there is an opportunity to teach a life skill to your child. Look for these opportunities and take them.
What are the most desirable characteristics you would like your child to have? Here are some of our core principles, and how Sport Diddy Challenges helped me teach Diddy and Diddy Roo about those values:
Integrity

To be honest about completing a challenge. Diddy would say "no try" in rugby if he didn't place the ball down correctly.

Humility

To keep learning. When asked "Is Diddy a star?", he replied, "No Daddy i'm a triangle!"

Kindness

To other people and things. Diddy Roo picked up her teddies and gave them a kiss when they fell over.

Sense of Humour

To laugh together when things went wrong or we fell over. Diddy Roo laughed when the ball rebounded off her car and hit her on the head!

Discipline

To not give up and to try again. This helped Diddy volley the football into the basketball net.

Resilience

Some of our challenges were very tough but both my children showed great resilience to keep trying instead of giving up.

Courage

 To take on a difficult challenge or learn a new skill. Both children were courageous to take on new sports and weren't afraid to risk failure.

Curiosity

To pick up a new piece of equipment and think of ways to use it. Diddy Roo was curious when she threw a ball from a height to hit a balloon.

Self-confidence

To believe in themselves. Diddy Roo believed she could do a volleyball dig over my head and into the basket.

Self-awareness

To know their strengths and weaknesses. Both my children did things they didn't originally think were possible, and they learned a lot about themselves in the process.
Childhood Obesity
One of the many benefits of Sport Diddy is that it helps to get your children active at a young age by creating good early habits for your child.
Childhood Obesity in under-fives is set to rise from today's 41 million worldwide to 70 million over the next decade. That number alone should give us all pause for thought.
Research has opened our eyes to the nature & extent of this problem worldwide. It is an issue increasingly being featured in the media, as well as becoming a focus of academic research. Initially it was thought that Childhood Obesity was all about diet. It then became increasingly clear that its causes were much more to do with lifestyle. Children are being born into smaller families & have many more sedentary options than active ones in their early years & as they grow up.
Sport Diddy is a screen based option, but its purpose is to get young children & their parents off the sofa and into exercise. One of our primary aims is to help young people to be more active.
Sport Diddy uses sporting challenges to address what is perhaps the primary cause of Childhood Obesity, namely the declining amount of physical activity among both young & old alike.
Things I learned
'On Confidence and Self-Belief'
When Diddy was very young he couldn't jump, he would try his best, but his feet never left the floor. One day I said to him:
"You're really good at jumping"
He replied...
"Daddy, I'm like a kangaroo on a trampoline"
Which is a lovely phrase that has stuck with me. Building a child's confidence throughout their life is so important. I constantly told Diddy he could do anything and he was brilliant. Build your child's confidence at every opportunity.
Diddy and Diddy Roo thought they could do any challenge I put in front of them – and they did. A lot of that came from the fact that they thought they could do it at such a young age. I still see the benefits of this positive thinking in them to this day.
Confidence and self-belief are two of many qualities that will help to give your children souls of steel and prepare them for their life ahead. Sport was the vehicle for me to learn many life skills when I was growing up.