Getting started
You can do Sport Diddy anywhere!
Chapter 4: Getting Started
Sport Diddy can be done anywhere, whether in a small room in your house or out in the garden.
How to Get Started
Make some room in your house or outside for Sport Diddy Challenges. You can do many things with children in a small space, using very basic and inexpensive equipment.
The room we used was 6m by 3m and we generally only used half of that to allow for the camera to film. It is an advantage if you have walls at each side (we used them to great effect in some of the challenges) but it is not essential.
Once you have your space search the house for toys, tubs, buckets, hoops, balls, rackets, cups, teddies etc. and generally anything that could be used.
Many of the everyday items in your house can be incorporated into a challenge, but over time you may need to buy a few extra items e.g. various balls, rackets, bats, basketball net or a goal etc.
Make up a challenge that is simple for your child so they can achieve early success and you are on your way.
The basic structure is incredibly simple:
Clear out a space in your house

Gather equipment

Set up a simple challenge

Have fun playing together

Give lots of praise
Of course there is lots of additional advice and nuance that will help you make the most of your time. Follow the guidelines and advice in this handbook and you will gradually develop your child's skills as you progress with your challenges.
How Often Should I do Sport Diddy Challenges?
I suggest doing Sport Diddy 2 or 3 times a week for around 20 minutes each time.
If your child is very young then maybe less than that, and as your child gets older the time can increase. There were weeks where we didn't do it at all and weeks where we did something every day.
In summary, do as much or as little as your Diddy wants!
I found if we didn't do it for a while the children would ask if I would come and do Sport Diddy with them. Let your child guide you on this and have patience. Doing too much will put them off and you may lose the fun and excitement.
How to Use Toys
When your child is very young bring in their toys. Diddy loved his trains and we used them a lot, even if they were just watching. Diddy had great fun trying to hit his trains when we did our golf challenges.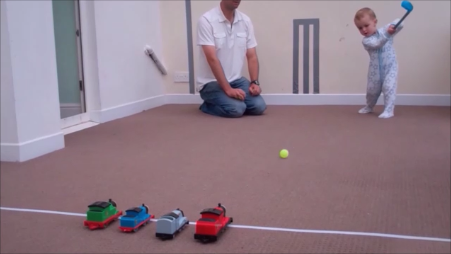 Diddy Roo had lots of Teddies that she would play with. Very early on we brought Pooh Bear and friends into the room and used them whenever we could in the challenges.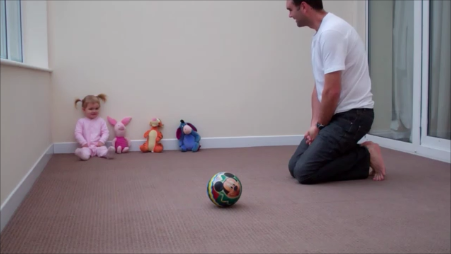 Sometimes the teddies would sit and watch. They became great companions during the Sport Diddy Challenges, particularly when Diddy Roo was aged 1. Often Diddy Roo would go and kiss them before firing a ball at high speed towards them!
On other occasions, the teddies would fly through the air into a basket or get knocked over with a tennis shot.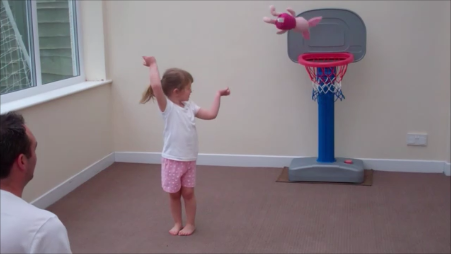 Piglet is heading head first into the basket.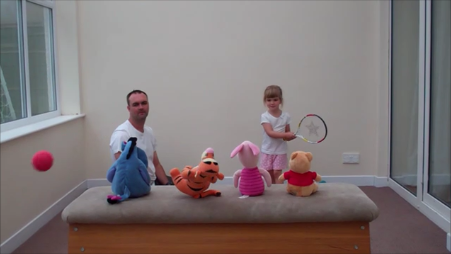 Tigger gets knocked off the box.
Things I learned: Mix sports and equipment
Throughout the challenges we would mix and match equipment and combine sports. For example we would hit golf, cricket or tennis shots into a football goal.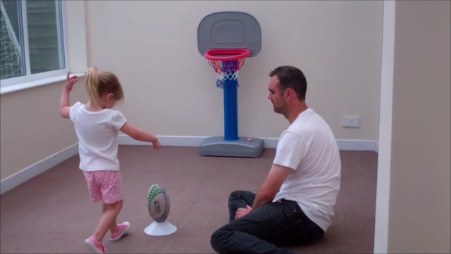 Mixing sports is a great way to go. The basketball ring became a target for everything from a rugby kick to a volleyball dig or a badminton shot. Here Diddy Roo fires the rugby ball into the basketball net. Mix and match all the time!